International Big Band Directory

ibd
🔎 search for
Big Bands
▰
Musicians
▰
Venues
▰
Gigs
▰
MiscAds
▰
Forum
▰
FAQ
▰
Video!
▰
Get Password
▰
Login
🔎
Thilo Wolf Big Band
[Germany] Bavaria Fürth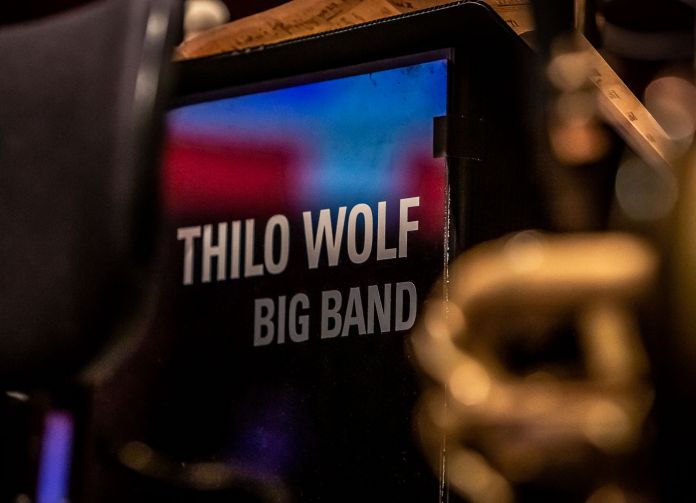 ProfessionalBigBand

Thilo Wolf Big Band, founded by Thilo Wolf, is one of Germany's leading Big Bands for over 25 years and was inducted into the "Big Band Hall Of Fame" (USA) in 2007. The Bayerische Rundfunk was the birthplace of the band and they immediately got their own TV show lasting several years ("SWING IT"). Countless TV programs for BR television, ARD, ZDF and 3SAT followed The orchestra has already worked with numerous international artists, including the big band heroes Max Greger, Paul Kuhn and Ray Anthony as well as numerous Grammy Award winners such as Paul Anka, Diane Schuur and New York Voices up to the current German-speaking top acts such as Till Brönner or Max Mutzke. The big band is not only represented as a television orchestra in various broadcasters, but is still involved in various cross-border projects to this day. Over 30 studio albums have also been created.



🔎
Strictly Smokin' Big Band
[United Kingdom] North East Newcastle-upon-Tyne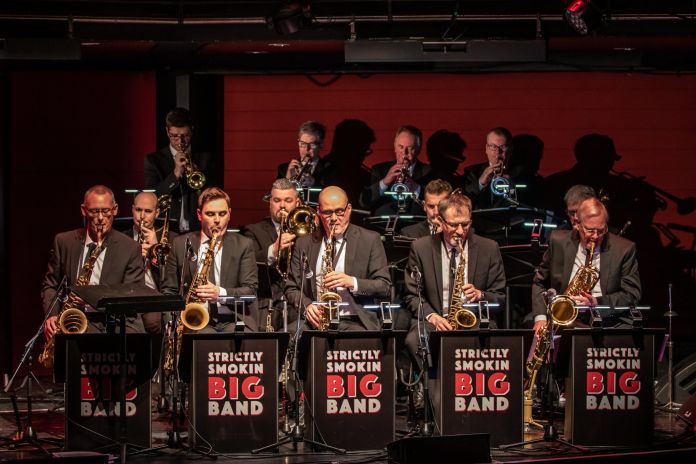 SemiProfBigBand

Based in Newcastle-upon-Tyne and performing across the UK.



🔎
Patchwork Jazz Orchestra
[United Kingdom] London London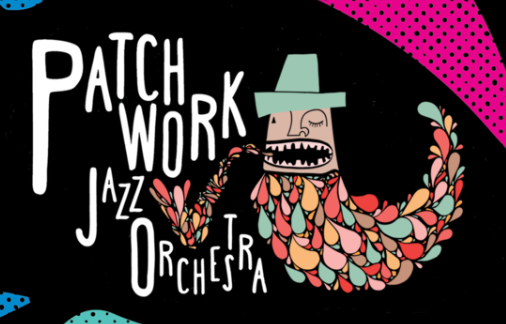 ProfessionalBigBand

The Patchwork Jazz Orchestra are a collective London based ensemble dedicated to championing big band music in a contemporary setting. Since its debut at the 2014 London Jazz Festival, the group has been turning heads with the sound of fresh original compositions written exclusively by its members, and have appeared at some of London's best known jazz venues from the 606 Club and the Vortex, to abroad at the La Mortella concert series in Ischia, Italy. In 2015 the orchestra won the Peter Whittingham Award, whcih funded their own pop-up night 'Patchwork', along with their debut album which they are set to record at the end of 2017.



🔎
Andrew Linham Jazz Orchestra
[United Kingdom] London London

ProfessionalBigBand

The Andrew Linham Jazz Orchestra is a contemporary big band playing the original music of leader and composer Andrew Linham. They premiered their first album 'Weapons of Mass Distraction' in 2017 having formed in 2014 for the performance of two suites of music 'The Linferno Suite' (2013) and 'Theme Music of Anarchic Animals' (2015). They annually perform a 'Christ-Mess Extravaganza' at The Vortex and are a hidden gem in the London Jazz scene. Featuring a wealth of young talent, this millenial big band enjoys pastiche and wacky humour led with irreverance celebrating the wealth of diversity of style in the history of jazz. Downbeat said of them "The cleverly titled Weapons of Mass Distraction firmly establishes the Andrew Linham Jazz Orchestra has a signification addition to today's big band scene and a group that deserves wider recognition at the international level." Ed Enright, Downbeat Review (Editor's Pick) December 2017



🔎
Moonlight Swing
[United States (USA)] Northern California Sacramento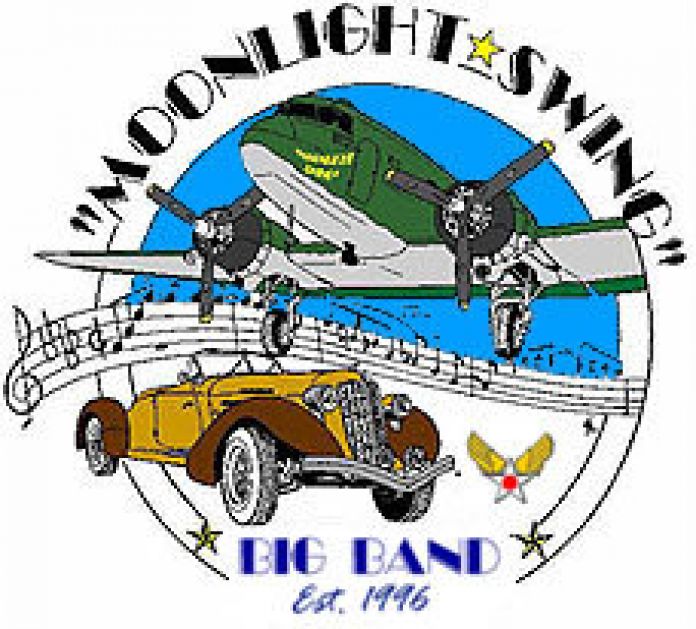 ProfessionalBigBand

The Moonlight Swing Living History Big Band was established in 1996 as a non-profit historical organization whose chartered mission is to keep the memory and music of Glenn Miller and the Great Big Band Era alive for all to enjoy. The majority of our charts have been arranged from either original 78s and V-discs from World War II, charts that have been donated from original artists or from our in house arrangers. The band is based in the Sacramento, California area. We have played a wide variety of venues since 1996, as intimate as a backyard wedding anniversary to as large as playing for the late Bob Hope at the Stockton Air Show in front of thousands of people. The band appears in World War II Army Air Corps uniforms or in 1940s style formal attire (white dinner jackets).



Is your Big Band listed?
▰
A:
Afghanistan
,
Albania
,
Algeria
,
Andorra
,
Angola
,
Antigua and Barbuda
,
Argentina
,
Armenia
,
Aruba
,
Australia
,
Austria
,
Azerbaijan
, ▰
B:
Bahamas
,
Bahrain
,
Bangladesh
,
Barbados
,
Belarus
,
Belgium
,
Belize
,
Benin
,
Bhutan
,
Bolivia
,
Bosnia and Herzegovina
,
Botswana
,
Brazil
,
Brunei
,
Bulgaria
,
Burkina Faso
,
Burma
,
Burundi
, ▰
C:
Cambodia
,
Cameroon
,
Canada
,
Cabo Verde
,
Central African Republic
,
Chad
,
Chile
,
China
,
Colombia
,
Comoros
,
Congo, Democratic Republic
,
Congo, Republic
,
Costa Rica
,
Cote d'Ivoire
,
Croatia
,
Cuba
,
Curacao
,
Cyprus
,
Czechia
, ▰
D:
Denmark
,
Djibouti
,
Dominica
,
Dominican Republic
, ▰
E:
East Timor
,
Ecuador
,
Egypt
,
El Salvador
,
Equatorial Guinea
,
Eritrea
,
Estonia
,
Ethiopia
, ▰
F:
Fiji
,
Finland
,
France
, ▰
G:
Gabon
,
Gambia
,
Georgia
,
Germany
,
Ghana
,
Greece
,
Grenada
,
Guatemala
,
Guinea
,
Guinea-Bissau
,
Guyana
, ▰
H:
Haiti
,
Holy See
,
Honduras
,
Hong Kong
,
Hungary
, ▰
I:
Iceland
,
India
,
Indonesia
,
Iran
,
Iraq
,
Ireland
,
Israel
,
Italy
, ▰
J:
Jamaica
,
Japan
,
Jordan
, ▰
K:
Kazakhstan
,
Kenya
,
Kiribati
,
Korea, North
,
Korea, South
,
Kosovo
,
Kuwait
,
Kyrgyzstan
, ▰
L:
Laos
,
Latvia
,
Lebanon
,
Lesotho
,
Liberia
,
Libya
,
Liechtenstein
,
Lithuania
,
Luxembourg
, ▰
M:
Macau
,
Macedonia
,
Madagascar
,
Malawi
,
Malaysia
,
Maldives
,
Mali
,
Malta
,
Marshall Islands
,
Mauritania
,
Mauritius
,
Mexico
,
Micronesia
,
Moldova
,
Monaco
,
Mongolia
,
Montenegro
,
Morocco
,
Mozambique
, ▰
N:
Namibia
,
Nauru
,
Nepal
,
Netherlands
,
New Zealand
,
Nicaragua
,
Niger
,
Nigeria
,
North Korea
,
Norway
, ▰
O:
Oman
, ▰
P:
Pakistan
,
Palau
,
Palestinian Territories
,
Panama
,
Papua New Guinea
,
Paraguay
,
Peru
,
Philippines
,
Poland
,
Portugal
, ▰
Q:
Qatar
, ▰
R:
Romania
,
Russia
,
Rwanda
, ▰
S:
Saint Kitts and Nevis
,
Saint Lucia
,
Saint Vincent and the Grenadines
,
Samoa
,
San Marino
,
Sao Tome and Principe
,
Saudi Arabia
,
Senegal
,
Serbia
,
Seychelles
,
Sierra Leone
,
Singapore
,
Sint Maarten
,
Slovakia
,
Slovenia
,
Solomon Islands
,
Somalia
,
South Africa
,
South Korea
,
South Sudan
,
Spain
,
Sri Lanka
,
Sudan
,
Suriname
,
Swaziland
,
Sweden
,
Switzerland
,
Syria
, ▰
T:
Taiwan
,
Tajikistan
,
Tanzania
,
Thailand
,
Timor-Leste
,
Togo
,
Tonga
,
Trinidad and Tobago
,
Tunisia
,
Turkey
,
Turkmenistan
,
Tuvalu
, ▰
U:
Uganda
,
Ukraine
,
United Arab Emirates
,
United Kingdom
,
United States (USA)
,
Uruguay
,
Uzbekistan
, ▰
V:
Vanuatu
,
Venezuela
,
Vietnam
, ▰
Y:
Yemen
, ▰
Z:
Zambia
,
Zimbabwe
Sitemap