International Big Band Directory

ibd
🔎 search for
Big Bands
▰
Musicians
▰
Venues
▰
Gigs
▰
MiscAds
▰
Forum
▰
FAQ
▰
Video!
▰
Get Password
▰
Login
🔎
Ximo Tebar A-Free-Kan Jazz Dance Big Band
[Spain] Valencia Valencia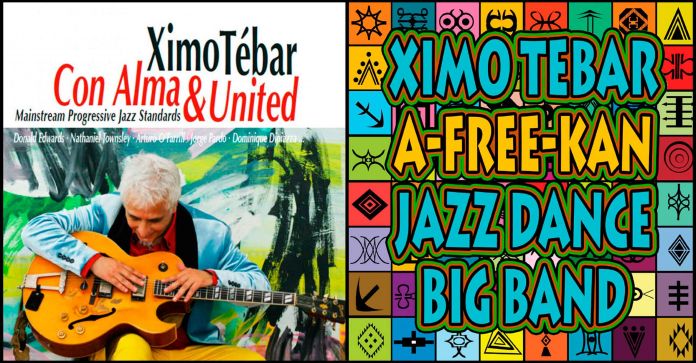 ProfessionalBigBand
[Concert/Performance] A-FREE-KAN JAZZ DANCE BIG BAND. [Download Audios and Big Band Scores] Curious and unusual instrumental composition with traditional African, classical and flamenco voices, instruments and dances led by jazz guitarist Ximo Tebar. Artistically, highlights the fusion of traditional African music and dance with the most modern jazz in a curious and unusual instrumental composition with voices, itraditional African instruments and dances, flamenco dance, classical and modern instruments; cello, percussion, guitar, bass and drums creating a curious combination of environments cello-kora (traditional African instrument), and the African voices playing original music or arrangements of renowned composers such as Wayne Shorter or Miriam Makeba. The collective improvisations between the instruments together with the percussionists and the dances, create a rhythmic, mysterious and magical spectacular environment. This project is a multicultural breakthrough in the fusion of World Music. [Download Audios and Big Band Scores]
https://omixrecordsblog.files.wordp…
🔎
SWR Big Band
[Germany] Baden-Württemberg Stuttgart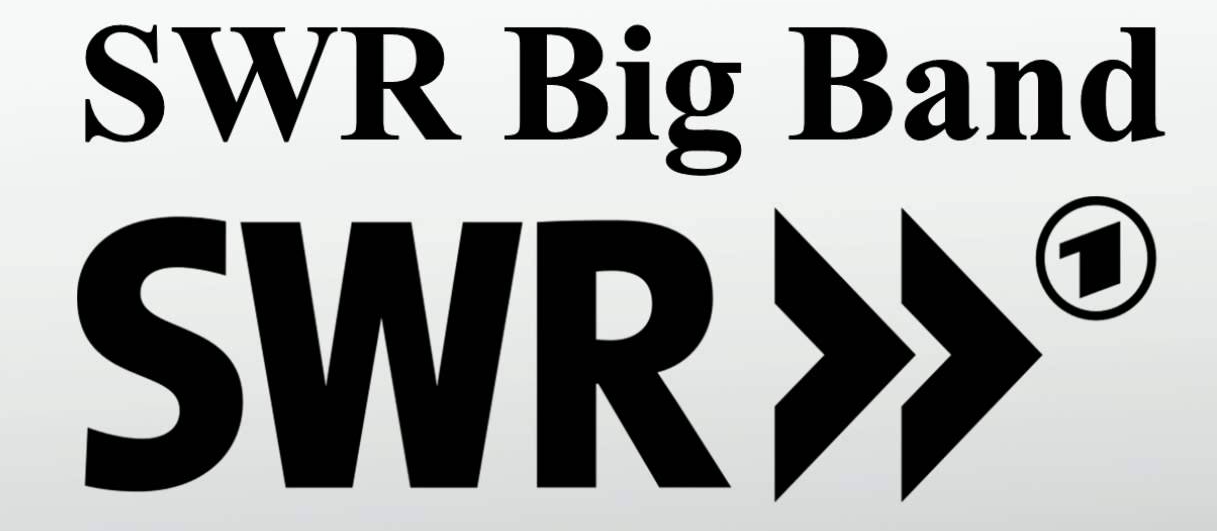 ProfessionalBigBand

Seventeen musicians – one sound. And a very convincing sound, at that. The SWR Big Band has so far been nominated four times for a Grammy. Also it received in 2015 a Jazz Award in Gold from German music industry. In the face of so much fame, it seems almost modest to say that the SWR Big Band is one of the best big bands in the world. Jazz, fusion or world music, the repertoire is large. As is the list of recent guests and collaborators: Quincy Jones, Larry Carlton, Pat Metheny, George Benson, Gary Burton, Dee Dee Bridgewater, Curtis Stigers, Jacob Collier, Patti Austin, Roy Hargrove, Sammy Nestico, Ivan Lins, Paula Morelenbaum, Ack van Rooyen, Joo Kraus, Toshiko Akiyoshi, Maria Schneider, Bill Holman, Bob Mintzer, Nils Landgren, Gary Burton, Zaz, New York Voices, Magnus Lindgren and Ralf Schmid. Or how about a shade more pop? No problem – for instance, with Paul Carrack, Max Mutzke or Götz Alsmann. Like the big bands in the USA, the SWR Big Band has its own sound, created by its founder and conductor, Prof. Erwin Lehn gently refined till today. The starting gun was first heard on April 1, 1951. Back then, the SWR Big Band was still known as a dance orchestra, the Südfunk-Tanzorchester. Lehn saw to it that the band was increasingly referred to as the "Daimler of big bands". Ever since the early nineties, the SWR Big Band has been appearing with various bandleaders, depending on the project and style of music.



🔎
Andrew Linham Jazz Orchestra
[United Kingdom] London London

ProfessionalBigBand

The Andrew Linham Jazz Orchestra is a contemporary big band playing the original music of it's leader and composer Andrew Linham. They premiered their first album 'Weapons of Mass Distraction' in 2017 having formed in 2014 for the performance of two suites of music 'The Linferno Suite' (2013) and 'Theme Music of Anarchic Animals' (2015). They recently premiered a 'Christ-Mess Extravaganza' and are a hidden gem in the London Jazz scene. Featuring a wealth of young talent, this millenial big band enjoys pastiche and wacky humour led with irreverance celebrating the wealth of diversity of style in the history of jazz. Downbeat said of them "The cleverly titled Weapons of Mass Distraction firmly establishes the Andrew Linham Jazz Orchestra has a signification addition to today's big band scene and a group that deserves wider recognition at the international level." Ed Enright, Downbeat Review (Editor's Pick) December 2017.



🔎
Mace Francis Orchestra
[Australia] WA Perth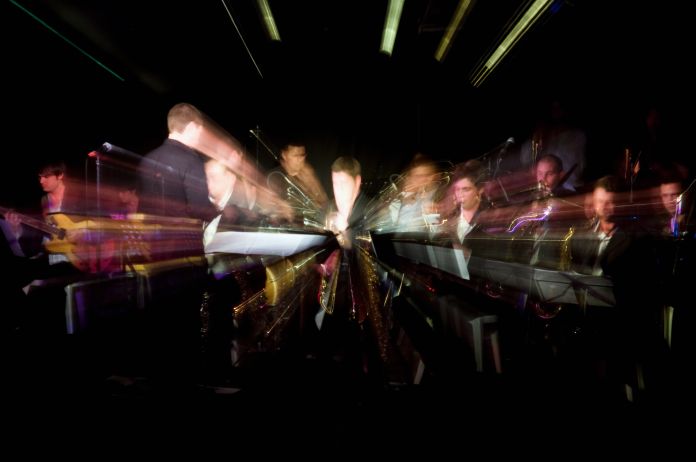 ProfessionalBigBand

The Mace Francis Orchestra (MFO) was formed late in 2005 by band-leader and composer Mace Francis to experiment with composition, in the style of the great modern big bands lead by Bob Brookmeyer, Thad Jones, Bill Holman and Maria Schneider. The result has been the coming together of 14 of Perth's finest musician's and composers to create exciting new music for big band. Over the last 15 years MFO has recorded 7 CDs, toured nationally four times and performed with international jazz artists, Jim Pugh (USA), Jon Gordon (NY), John Hollenbeck (Berlin), Theo Bleckmann (NY), Ed Partyka (GER) and Satoko Fujii (JAP). In 2015 MFO was awarded the APRA/AMCOS Art Music Award for Jazz Work of the Year for their recent album, Music for Average Photography.



🔎
Lucerne Jazz Orchestra
[Switzerland] Luzern Luzern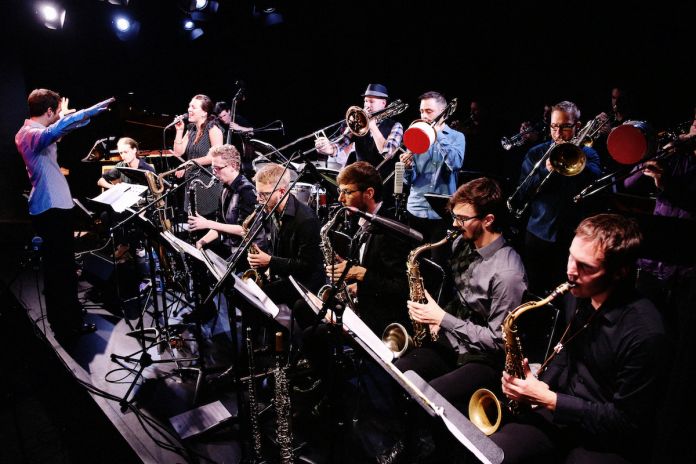 ProfessionalBigBand

Das Lucerne Jazz Orchestra bestand 2007-2017 unter der Leitung von David Grottschreiber und hatte sich mit einem innovativen Konzept einen Namen als eines der interessantesten europäischen Jazzorchester gemacht. An unzähligen Konzerten im In- und Ausland präsentierte das Ensemble regelmässig neue Musik von jungen Komponisten aus ganz Europa und ihr sein Schaffen ist auf mehreren Tonträgern dokumentiert. Während die grosse Eigenheit des LJO in den herausragenden Fähigkeiten aller Mitglieder als eigenständige Solisten und Komponisten lag, erweiterte es darüber hinaus regelmässig seinen Horizont durch die Zusammenarbeit mit namhaften Jazzkomponisten und –Solisten und scheute es nicht, sich auf neues Terrain zu begeben. So resultierte die Zusammenarbeit mit dem Saxophonisten und Komponisten Oliver Leicht in einem Programm für Jazzorchester, Tanz und Elektronik («Five Movements to hear and see»), und zusammen mit dem Klarinettisten und Komponisten Claudio Puntin wurde die vielbeachtete CD «Berge versetzen» aufgenommen. Des Weiteren waren Dave Douglas, Nils Wogram, Hayden Chisholm, Ed Partyka, Ohad Talmor, Niels Klein, Henning Sieverts, Reinhold Schmölzer, Gerd Hermann Ortler und Stefan Schultze zu Gast. Die Stadt und der Kanton Luzern würdigten das Schaffen des Lucerne Jazz Orchestra 2013 bereits zum zweiten Male mit einem Werkbeitrag.



Is your Big Band listed?
▰
A:
Afghanistan
,
Albania
,
Algeria
,
Andorra
,
Angola
,
Antigua and Barbuda
,
Argentina
,
Armenia
,
Aruba
,
Australia
,
Austria
,
Azerbaijan
, ▰
B:
Bahamas
,
Bahrain
,
Bangladesh
,
Barbados
,
Belarus
,
Belgium
,
Belize
,
Benin
,
Bhutan
,
Bolivia
,
Bosnia and Herzegovina
,
Botswana
,
Brazil
,
Brunei
,
Bulgaria
,
Burkina Faso
,
Burma
,
Burundi
, ▰
C:
Cambodia
,
Cameroon
,
Canada
,
Cabo Verde
,
Central African Republic
,
Chad
,
Chile
,
China
,
Colombia
,
Comoros
,
Congo, Democratic Republic
,
Congo, Republic
,
Costa Rica
,
Cote d'Ivoire
,
Croatia
,
Cuba
,
Curacao
,
Cyprus
,
Czechia
, ▰
D:
Denmark
,
Djibouti
,
Dominica
,
Dominican Republic
, ▰
E:
East Timor
,
Ecuador
,
Egypt
,
El Salvador
,
Equatorial Guinea
,
Eritrea
,
Estonia
,
Ethiopia
, ▰
F:
Fiji
,
Finland
,
France
, ▰
G:
Gabon
,
Gambia
,
Georgia
,
Germany
,
Ghana
,
Greece
,
Grenada
,
Guatemala
,
Guinea
,
Guinea-Bissau
,
Guyana
, ▰
H:
Haiti
,
Holy See
,
Honduras
,
Hong Kong
,
Hungary
, ▰
I:
Iceland
,
India
,
Indonesia
,
Iran
,
Iraq
,
Ireland
,
Israel
,
Italy
, ▰
J:
Jamaica
,
Japan
,
Jordan
, ▰
K:
Kazakhstan
,
Kenya
,
Kiribati
,
Korea, North
,
Korea, South
,
Kosovo
,
Kuwait
,
Kyrgyzstan
, ▰
L:
Laos
,
Latvia
,
Lebanon
,
Lesotho
,
Liberia
,
Libya
,
Liechtenstein
,
Lithuania
,
Luxembourg
, ▰
M:
Macau
,
Macedonia
,
Madagascar
,
Malawi
,
Malaysia
,
Maldives
,
Mali
,
Malta
,
Marshall Islands
,
Mauritania
,
Mauritius
,
Mexico
,
Micronesia
,
Moldova
,
Monaco
,
Mongolia
,
Montenegro
,
Morocco
,
Mozambique
, ▰
N:
Namibia
,
Nauru
,
Nepal
,
Netherlands
,
New Zealand
,
Nicaragua
,
Niger
,
Nigeria
,
North Korea
,
Norway
, ▰
O:
Oman
, ▰
P:
Pakistan
,
Palau
,
Palestinian Territories
,
Panama
,
Papua New Guinea
,
Paraguay
,
Peru
,
Philippines
,
Poland
,
Portugal
, ▰
Q:
Qatar
, ▰
R:
Romania
,
Russia
,
Rwanda
, ▰
S:
Saint Kitts and Nevis
,
Saint Lucia
,
Saint Vincent and the Grenadines
,
Samoa
,
San Marino
,
Sao Tome and Principe
,
Saudi Arabia
,
Senegal
,
Serbia
,
Seychelles
,
Sierra Leone
,
Singapore
,
Sint Maarten
,
Slovakia
,
Slovenia
,
Solomon Islands
,
Somalia
,
South Africa
,
South Korea
,
South Sudan
,
Spain
,
Sri Lanka
,
Sudan
,
Suriname
,
Swaziland
,
Sweden
,
Switzerland
,
Syria
, ▰
T:
Taiwan
,
Tajikistan
,
Tanzania
,
Thailand
,
Timor-Leste
,
Togo
,
Tonga
,
Trinidad and Tobago
,
Tunisia
,
Turkey
,
Turkmenistan
,
Tuvalu
, ▰
U:
Uganda
,
Ukraine
,
United Arab Emirates
,
United Kingdom
,
United States (USA)
,
Uruguay
,
Uzbekistan
, ▰
V:
Vanuatu
,
Venezuela
,
Vietnam
, ▰
Y:
Yemen
, ▰
Z:
Zambia
,
Zimbabwe
Sitemap