International Big Band Directory

ibd
🔎 search for
Big Bands
▰
Musicians
▰
Venues
▰
Gigs
▰
MiscAds
▰
Forum
▰
FAQ
▰
Video!
▰
Get Password
▰
Login
🔎
Scottish National Jazz Orchestra
[United Kingdom] Scotland Edinburgh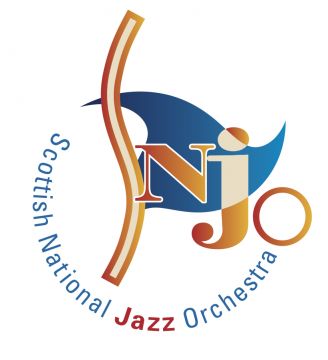 ProfessionalBigBand

Founder/Director Tommy Smith established the SNJO in 1995 as a not-for-profit organization with a crystal clear artistic vision and core values of versatility, discipline, and expression. The SNJO is dedicated to promoting jazz as a pre-eminent art form through performances, original compositions, recordings, and educational outreach programmes. This commitment extends to the task of developing promising young jazz musicians through the ranks of The Tommy Smith Youth Jazz Orchestra. It should, therefore, come as no surprise that many of the leading lights in world jazz have enthusiastically shared the stage with the SNJO. People like Cleo Laine, John Scofield, Gary Burton, Bobby Watson, Dave Liebman, Joe Lovano, Jazzmeia Horn, Bill Evans, Kenny Wheeler, Branford Marsalis, Arild Andersen, Peter Erskine, Kurt Elling, Makoto Ozone, and Randy Brecker have all joined the orchestra to explore virtually every room in the house of the jazz. The SNJO repertoire has included re-imaginings of works by the great, the good and the gigantic, including Weather Report, Herman, Rich, Strayhorn, Goodman, Kenton, Basie, Gillespie, Mingus, Corea, Monk, Metheny, Shorter, Miles, and Coltrane. They have also recorded vivid interpretations of Gershwin and Ellington to rave reviews, alongside a remarkable re-reading of Miles Ahead, an ECM-tinted set on Celebration and Tommy Smith's suite, Torah. The SNJO has also built a growing library of original compositions by the world's leading composers.



🔎
Swiss Jazz Orchestra
[Switzerland] Bern Bern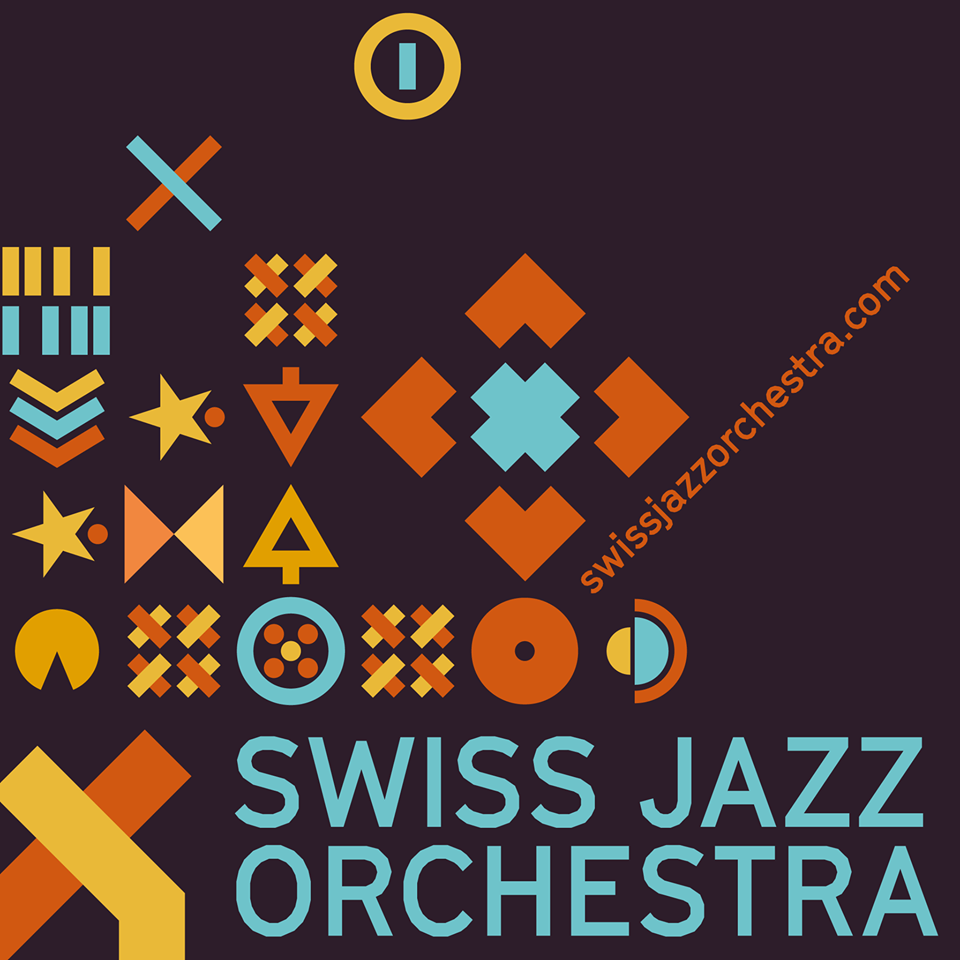 ProfessionalBigBand

Das Swiss Jazz Orchestra ist die meistbeschäftigte professionelle Big Band der Schweiz. Den Kern seiner Aktivitäten bildet eine wöchentliche Konzertserie im Bierhübeli Bern, die jeweils von Mitte Oktober bis Ende Mai läuft und etwa 30 Konzerte umfasst. Inklusive aller externen Engagements hat das SJO bereits über 700 Auftritte hinter sich. Daneben tritt das SJO mit Projekten verschiedenster Stilrichtungen auf, welche auf bisher 11 CDs dokumentiert sind. Für seine Verdienste wurde das SJO im Jahr 2010 mit dem grossen Kulturpreis der Burgergemeinde Bern ausgezeichnet. Das SJO hat mit international gefeierten Künstlern wie Joshua Redman, Peter Erskine, Mike Mainieri, Joey DiFrancesco, Paquito d'Rivera, Jeff Hamilton, John Clayton, Grégoire Maret, Anat Cohen, Alex Sipiagin, Chico Pinheiro, Torun Erisken, Claudio Roditi, Roberta Gambarini, Jerry Bergonzi, Jamie Cullum, den Jazz-Legenden Phil Woods und Buddy DeFranco, den Komponisten/Arrangeuren Jim McNeely, Bob Mintzer, Bert Joris, George Gruntz sowie nationalen Grössen wie Andy Scherrer, Franco Ambrosetti, Matthieu Michel, Nat Su, Domenic Landolf, Houry Dora Apartian, Michael Zisman oder Pepe Lienhard zusammengearbeitet.



🔎
Tokyo Big Band 東京ビッグバンド
[Japan] Tokyo Tokyo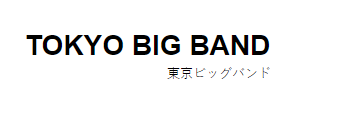 ProfessionalBigBand

TOKYO BIG BAND is a Tokyo-based 19-piece jazz ensemble that features prominent international musicians. Jonathan Katz directs, composes, arranges, and plays piano for the group, which he founded in 2008. The band's 1st album SAKURA was released in March 2019. TBB's library includes over 60 original arrangements of original compositions, jazz and popular standards, and most uniquely, Japanese children's, folk, and popular songs. Japanese people have sung these songs from childhood and enjoy hearing them reworked from a western jazz musician's perspective. Two French horns add a mellow roundness to our sound. TBB is a hit with first-time jazz listeners, who have come back again and again to augment our core audience. 世界中の文化・情報が集まる、巨大都市「TOKYO!!」 その東京で活躍する、世界各国出身のトップミュージシャンが集う 本物の大編成ビッグバンド、それが「TOKYO BIG BAND」です。 バンドマスターのジョナサン・カッツはニューヨーク出身の日本の心 を持つ天才ピアニスト。彼の紡ぎだすサウンドは「春の小川」「砂山」 「春がきた」「上を向いて歩こう」など日本を代表する楽曲をも 新たな生命を吹き込まれ生まれ変わる。 その サウンドに惚れ込んだ一流ミュージシャン達が真剣勝負で演奏 するコンサートは各地の学校コンサートで新旋風を巻き起こしている。



🔎
Big Band de l'EJMA Lausanne
[Switzerland] Lausanne Lausanne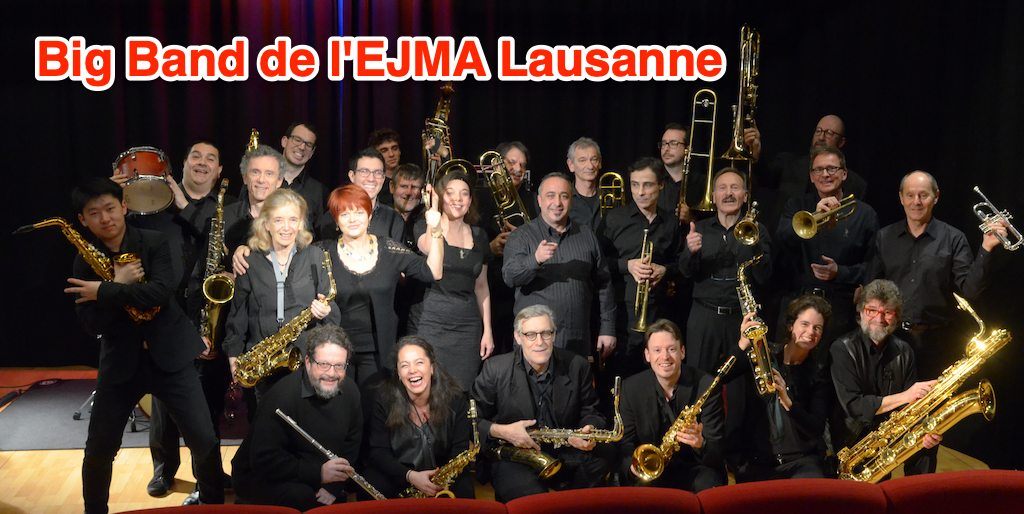 AmateurBigBand

Formé d'amateurs passionnés, le Big Band de l'EJMA, dirigé par Andrea Esperti, est actuellement composé de 22 musiciens et 1 chanteuse : une flûte, neuf saxophones, quatre trompettes, quatre trombones et une section rythmique piano, guitare, batterie et contrebasse. Son répertoire se veut varié, composé de Arthur Schwartz, Mike Tomaro, Steve Brown, Carl Strommen, Duke Ellington, Dizzy Gillespie, Wayne Shorter, Miles Davis, Gershwin…



🔎
Jazz Groove Peru
[Peru] Lima Lima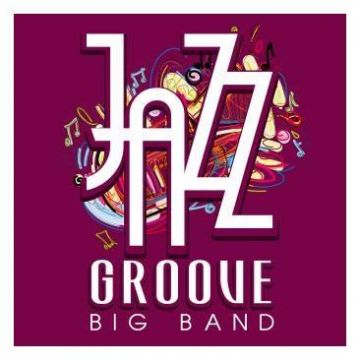 ProfessionalBigBand

JAZZ GROOVE PERU BIG BAND Es la big band de jazz afroperuano profesional representativa del Perú, fue fundada en 2013 por su director Angel Irujo, en busqueda de fomentar un nuevo espacio para la promoción y difusión de la música peruana, el jazz y la fusión entre ambos estilos bajo el formato de big band. CONCIERTOS En Lima se han presentado en : Centro Cultural Peruano Japones, Instituto Cultural Peruano Norteamericano, Centro Cultural Britanico, Jazz Zone de Miraflores, El Cocodrilo Verde, La Estacion de Barranco, etc. Son la banda de soporte de artistas de renombre internacional como Jaime Cuadra, Corina Bartra , entre otros. Han compartido escenario con Maite Hontele (Holanda), George Garzone (USA), Andy Hunter (USA), Elio Villafranca (Cuba), Jorge Perez-Albela (Peru), Hugo Alcazar (Peru),Steve Waterman (UK), Jorge Roeder (Peru) Humberto Amesquita (Peru), Caris Hermes (Alemania), Amik Guerra (Cuba), Marcelo Cohelo (Brasil). En 2017 se presentaron en la Conferencia Jazz Education Network con sede en New Orleans.



Is your Big Band listed?
▰
A:
Afghanistan
,
Albania
,
Algeria
,
Andorra
,
Angola
,
Antigua and Barbuda
,
Argentina
,
Armenia
,
Aruba
,
Australia
,
Austria
,
Azerbaijan
, ▰
B:
Bahamas
,
Bahrain
,
Bangladesh
,
Barbados
,
Belarus
,
Belgium
,
Belize
,
Benin
,
Bhutan
,
Bolivia
,
Bosnia and Herzegovina
,
Botswana
,
Brazil
,
Brunei
,
Bulgaria
,
Burkina Faso
,
Burma
,
Burundi
, ▰
C:
Cambodia
,
Cameroon
,
Canada
,
Cabo Verde
,
Central African Republic
,
Chad
,
Chile
,
China
,
Colombia
,
Comoros
,
Congo, Democratic Republic
,
Congo, Republic
,
Costa Rica
,
Cote d'Ivoire
,
Croatia
,
Cuba
,
Curacao
,
Cyprus
,
Czechia
, ▰
D:
Denmark
,
Djibouti
,
Dominica
,
Dominican Republic
, ▰
E:
East Timor
,
Ecuador
,
Egypt
,
El Salvador
,
Equatorial Guinea
,
Eritrea
,
Estonia
,
Ethiopia
, ▰
F:
Fiji
,
Finland
,
France
, ▰
G:
Gabon
,
Gambia
,
Georgia
,
Germany
,
Ghana
,
Greece
,
Grenada
,
Guatemala
,
Guinea
,
Guinea-Bissau
,
Guyana
, ▰
H:
Haiti
,
Holy See
,
Honduras
,
Hong Kong
,
Hungary
, ▰
I:
Iceland
,
India
,
Indonesia
,
Iran
,
Iraq
,
Ireland
,
Israel
,
Italy
, ▰
J:
Jamaica
,
Japan
,
Jordan
, ▰
K:
Kazakhstan
,
Kenya
,
Kiribati
,
Korea, North
,
Korea, South
,
Kosovo
,
Kuwait
,
Kyrgyzstan
, ▰
L:
Laos
,
Latvia
,
Lebanon
,
Lesotho
,
Liberia
,
Libya
,
Liechtenstein
,
Lithuania
,
Luxembourg
, ▰
M:
Macau
,
Macedonia
,
Madagascar
,
Malawi
,
Malaysia
,
Maldives
,
Mali
,
Malta
,
Marshall Islands
,
Mauritania
,
Mauritius
,
Mexico
,
Micronesia
,
Moldova
,
Monaco
,
Mongolia
,
Montenegro
,
Morocco
,
Mozambique
, ▰
N:
Namibia
,
Nauru
,
Nepal
,
Netherlands
,
New Zealand
,
Nicaragua
,
Niger
,
Nigeria
,
North Korea
,
Norway
, ▰
O:
Oman
, ▰
P:
Pakistan
,
Palau
,
Palestinian Territories
,
Panama
,
Papua New Guinea
,
Paraguay
,
Peru
,
Philippines
,
Poland
,
Portugal
, ▰
Q:
Qatar
, ▰
R:
Romania
,
Russia
,
Rwanda
, ▰
S:
Saint Kitts and Nevis
,
Saint Lucia
,
Saint Vincent and the Grenadines
,
Samoa
,
San Marino
,
Sao Tome and Principe
,
Saudi Arabia
,
Senegal
,
Serbia
,
Seychelles
,
Sierra Leone
,
Singapore
,
Sint Maarten
,
Slovakia
,
Slovenia
,
Solomon Islands
,
Somalia
,
South Africa
,
South Korea
,
South Sudan
,
Spain
,
Sri Lanka
,
Sudan
,
Suriname
,
Swaziland
,
Sweden
,
Switzerland
,
Syria
, ▰
T:
Taiwan
,
Tajikistan
,
Tanzania
,
Thailand
,
Timor-Leste
,
Togo
,
Tonga
,
Trinidad and Tobago
,
Tunisia
,
Turkey
,
Turkmenistan
,
Tuvalu
, ▰
U:
Uganda
,
Ukraine
,
United Arab Emirates
,
United Kingdom
,
United States (USA)
,
Uruguay
,
Uzbekistan
, ▰
V:
Vanuatu
,
Venezuela
,
Vietnam
, ▰
Y:
Yemen
, ▰
Z:
Zambia
,
Zimbabwe
Sitemap